I like the idea of two co-leaders with conflicts of interest, i.e. shady dealings vs. honesty or money vs. principles. Maybe one has the money without skills & the other skills without the money, (ship owner vs. captain).
Or Captain (ship owner but for the bank loan) and Patron (defacto owner for bailing out the bank loan).
The Captain just wants to fulfill the requirements of the deal with the Patron to get "his" ship back without endangering himself of the crew.
The Patron is willing to use the Captain and crew, sacrificing them if needed, to attain the "item" before the opposition.
No real rights or wrongs, or goods or bads, just shades of gray




Posts

: 58


Join date

: 2008-03-25



Great, lots of simmering resentment from the captain & the opportunity for a few dirty tricks from either side.
Idea 1:

The "owner" is a bonded Knight of the Subsector Duke, and a right rotten chap at that. At outward appearance he maintains all forms of decorum, protocol, and fashion, but his business dealings, he is a borderline gangster. A former Imperial Intelligence Officer (if there can be such a thing) Sir (?) is employed by the Duke when he needs a man that is not fettered unduly by ethics. It might be cool to have this character female.

The Captain is a man that is from the Merchant Arm. He's got a lot of Jack of T and a lot of Leadershp. He's a good Pilot, and a good Captain to his crew. He is used to everyone knowing thier part and being able to handle long distance hauling. He was also selected for the Search for his experiences in dealing with crewpeople that go mad on long distance hauls and crew relations in general. The Captain will do what he's gotta do to get by, and largely try to stay out of trouble. What scrapes he has been in have been minor bar fights and some shady cargo stuff, but nothing beyond what a reasonable traveller would experience. He's a good guy, but he can fight like crazy if he needs to, and has done so quite a bit.
This is good.
I think the 'owner' should be female also (a bit of sexual tension in there too!), a real selfish underhanded shady bitch & she's part of our crew! (I assume she will insist on being along for the ride).
And the captain is just what I was imagining - slightly Mal Reynolds/Han Solo.
Will get these two visualized up in the next day or so.
Here my idea of the captain, a nice guy, youngish, tough, has total loyalty from his crew & only occasionally strays into the grey side of the law, my earlier comments about him being slightly Mal/Han probably make him seem too rogue-ish I think he is a bit more moral than them, but not without a few underhand tricks up his sleeve. In times of desperation...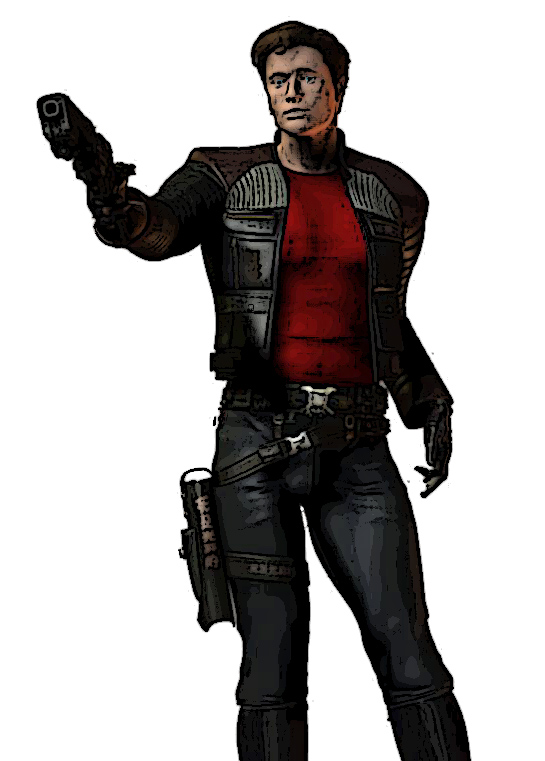 Since I have got lucky and blessed with a functioning computer, I have to bomb you today if I can, much to read and I still have to mess with some CharGen today...
Anyway, if the Captain is such a good relationship guy some liaison wouldn't hurt either.
As for Captain/'Owner' conflict it is the old Master and Commander issue. Captain is theoretically in charge and responsible for Crew and Ship, but Master can still direct the Commander and even fire them, but the actual running of the ship is still the Captain's problem. Wait till she tries and countermanding an order of the Captain's, and let the fun begin...

Meanwhile the Doctor observes all.




Posts

: 86


Join date

: 2008-06-23


Location

: Spinward Marches (Milwaukee, WI)





Similar topics
---
Permissions in this forum:
You
cannot
reply to topics in this forum